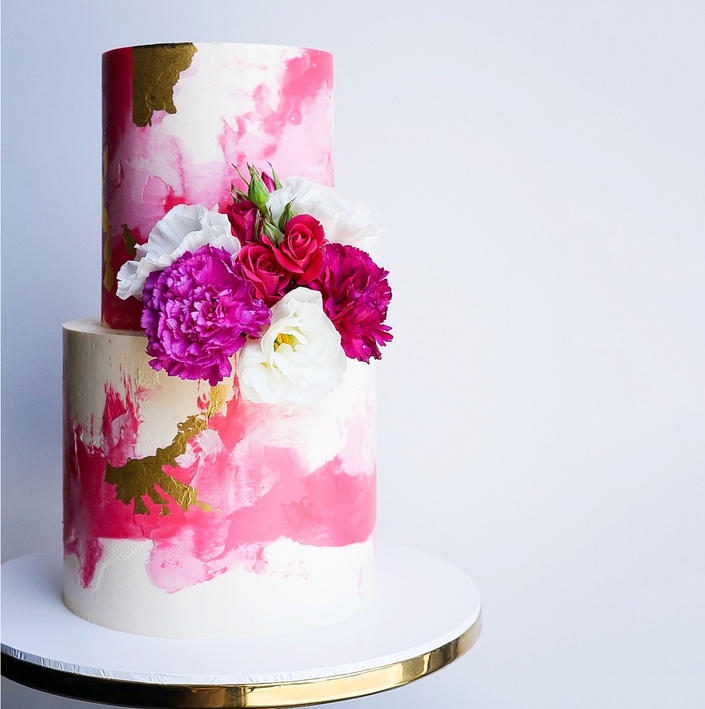 Two-Tier Watercolour Buttercream Cake
Create Edible Art
The Online School is now closed for new enrolments until August 2019, whilst we make updates to our courses. Existing students will still have access to their courses and will automatically receive the updates when we relaunch.
---
*Teachable is a US platform and unfortunately, does not list in other currencies without removing PayPal as a payment option. Until this can be improved, please note that prices listed are in USD.
---
The long awaited Two-tier Watercolour Buttercream Cake course is finally here! Learn how we make edible art at Don't Tell Charles with our watercolour buttercream techniques. While you're here, master the smooth sides as well as those razor sharp edges.
The course curriculum includes written materials and a video for each module. You will need to use both the written materials and videos to be able to get the most out of this course. There is also a FAQ section for after you have given it a go. Each module also contains a comment section where you can interact with the instructor and ask questions.
After enrolment, don't forget to join our DTC Student Group on Facebook! DTC students are from all over the world and are always eager to connect.
This course will cover:
1. Cake Baking
How to prep your tins and bake a moist cake that rises evenly. Avoid burnt sides and those massive wasteful domes! Bonus DTC Vanilla Cake Recipe included!
2. DTC Buttercream
Achieve the silkiest buttercream that isn't sickeningly sweet. Sturdy enough to hold your cake together and smooth enough to be eaten with a spoon. Best of all, it doesn't take long to make.
3. Smooth Sides & Sharp Edges
Filling and icing a cake is straight forward enough however, it's those elusive smooth sides and straight edges that have many of us pulling our hair out at times. With our simple tricks, you won't have to dread this process again. You'll learn exactly how simple it is to get those sides straight and smooth, and most satisfying of all those edges razor sharp!
4. Watercolour Buttercream
Create edible art with our Watercolour buttercream techniques. In this course, we show you two techniques: the partial watercolour finish and the full watercolour finish. Once mastered, the sky's the limit!
5. Tiered Cakes Fundamentals
There are a few things to remember when it comes to making tall cakes, tiered cakes and especially tall tiered cakes. We show you how we do it, without a central dowel. There's only so much you can do when it comes to stacking tiers. It's the building blocks that makes a difference.
6. Working with Fresh Flowers
Fresh floral decorations on a cake are causing a bit of a divide at the moment. Some stay away from them, some cannot get enough of them. We belong to the latter. There are however, very specific steps to take prior to putting the flowers onto your cake. It's not just a matter of snipping the flowers off the bunch and sticking them in (there are a few videos on the internet of this, eeeek!)
7. Edible Gold Leaf
As if there aren't enough content already, we will also show you how to apply edible gold leaf transfers onto your finished cake.

WHAT OUR STUDENTS SAY
'Hi Thao, I love the online course and am so happy I purchased it. It helps me get my sharp edges extra sharp. Yay!' Katharina K
'Hi Thao, ❤️❤️❤️ DTC Buttercream! Actually I don't know anyone I hv served my cake to who didn't enjoy the buttercream. Love how fuss free it is, every batch perfect!!!' Pat T
'Just finished watching your whole tutorial. Amazing! Thank you for putting in all the hard work just so we can learn your amazing techniques and tricks. It was very well done and you make it look so easy!' Rosita M
'Dear thao! I'm so very happy with the course. You have put a lot of work making it so easy to understand! I didn't apply the watercolor finish this time, but I believe I had make the most perfect edges cake. Thanks a lot!!!! Manuela A
This course is not open for enrollment.
Who is this course for?
As this is a self-paced course it is suitable for all skill levels. If you are a beginner, spend some time perfecting your building blocks (cake baking & buttercream) before moving onto construction (icing and rendering smooth sides etc). Even if you are a seasoned or professional baker, there will be some interesting things here for you too!
What's next?
Once you master the foundation of smooth buttercream and sharp edges, have fun with making the watercolour finish as clean or textured as you prefer. Then try your hands at experimenting with different colours and decorations. Instead of fresh flowers, top the cake off with a beautiful chocolate sail. If you're short for inspirations check out our Instagram feed to see what we've done with our watercolour cakes!
Your Instructor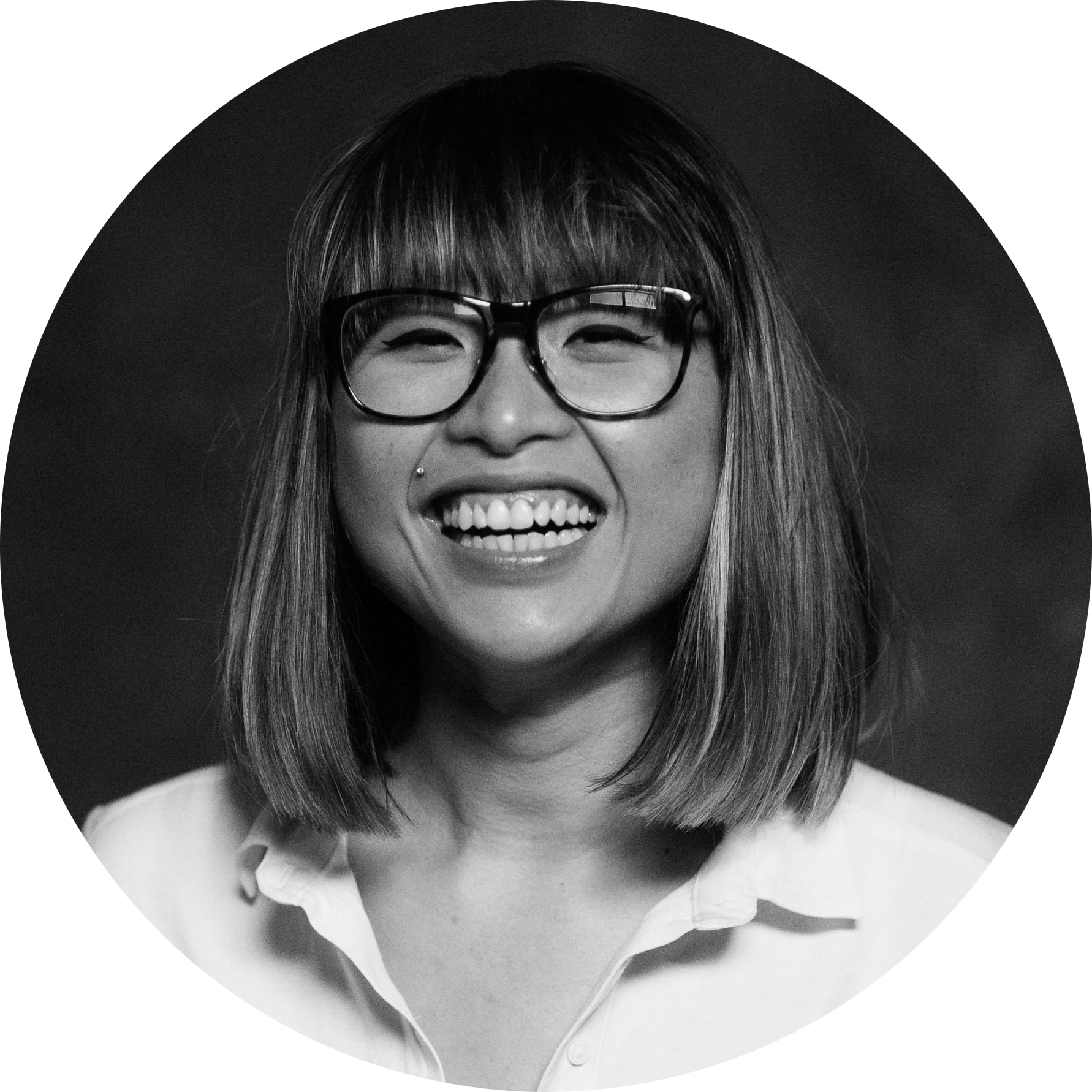 Thao Armstrong is the founder of Don't Tell Charles, creator of the original Concrete Cake and a leader in the contemporary buttercream cake movement in Australia and across the world.
A self-taught cake designer with a background in Landscape Architecture, Thao opened Don't Tell Charles in 2013 as a small specialty coffee & dessert shop in the inner suburbs of Melbourne. Fast forward to today and the cafe is now a modern designer cake studio and workshop.
With over 7 years experience in the cake industry, Thao has taught over a hundred physical workshops in multiple locations around the work including Melbourne, Sydney, London, Auckland, Singapore & Medan. She also founded the DTC Online School which currently enrolls over 6000 students globally.
Architecture has always been a great source of inspiration for Thao. Clean lines and sharp edges are synonymous with Thao. Her goal is to push the boundary between where one design field ends and another begins; to inspire and empower people to explore and embrace their own unique artistic voice and to appreciate that there is no right or wrong when it comes to art.
Read more about Thao Armstrong's journey here.
Class Curriculum
Before You Start
Available in days
days after you enroll
1. Cake Baking
Available in days
days after you enroll
2. DTC (Don't Tell Charles) Buttercream
Available in days
days after you enroll
Frequently Asked Questions
When does the course start and finish?
The course materials will be available from 11.30pm AEST (Australian Eastern Standard Time) Tuesday 8th May 2018 until forever! It is a completely self-paced online course - you decide when you start and when you finish.
How long do I have access to the course?
How does lifetime access sound? After enrolling, you have unlimited access to this course for as long as you like - across any and all devices you own.
Are the recipes in grams, cups or ounces?
The recipes list ingredients both in grams and ounces.
Does the instructor speak to the camera?
No. The videos are very detailed with accompanying onscreen texts. Use them combined with the written materials and you will have all you need. We find that this is the most straight forward way of conveying our techniques.
I have a few more questions, where can I direct them?
Please send your questions to classes@donttellcharles.com.au
This course is not open for enrollment.